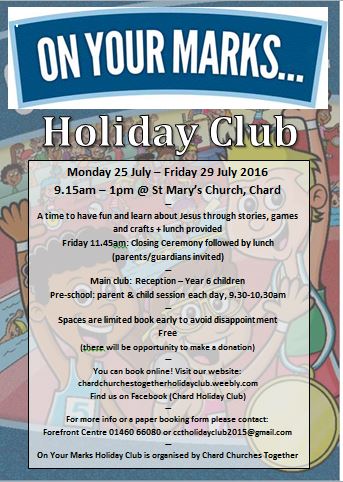 The theme of the Chard Churches Together Holiday Club for 2016 is "On Your Marks!"
Monday 25th July – Friday 29th July
9.15am – 1.00pm
St Mary's Church, Chard.
Online registration is closed but you can still register 'on the day'.
The club is for primary school aged children (reception to year 6). This year there is also a separate pre-school children and parent/guardian session for an hour each morning (9.30-10.30am).
Throughout the week we will be thinking about stories about Jesus from Mark's Gospel & discovering what it's like to be a member of the team that has Jesus as it's leader. There will be lots of fun and opportunity to learn through stories, crafts and games. Lunch will also be provided.
Closing ceremony
The week will end with a 'Closing Ceremony' (Friday 29 July, 11.45am) to which all parents and guardians are invited to attend. Come and see what we have been doing all week, and stay on for lunch afterwards.
More information: www. chardchurchestogetherholidayclub.weebly.com