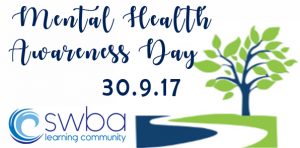 The South West Baptist Association have arranged to hold a 'Mental Health Awareness Day' on Saturday 30th September. Please let Andy know if you wish to go, by 18th September at the latest.
The day takes place from 10am to 3pm at South Street Baptist Church, Exeter, with speaker Sally Bowcock.The cost is £15 including lunch. Flyers are in the foyer of the CBC church building.
Learn how to help the one in four people who will have mental health conditions at some point in their lives.