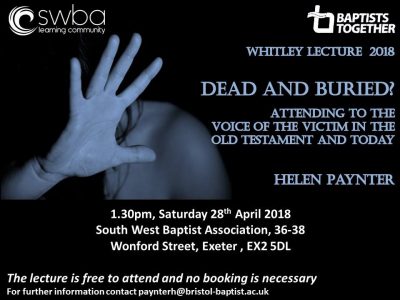 The 2018 Whitley Lecture is given by Helen Paynter and hosted by the South West Baptist Association in Wonford, Exeter, and is entitled:
Dead and Buried?
Attending to the voices of the victim in the Old Testament and today.
Whether we are reading a modern news article about a violent atrocity, or one of the shocking Old Testament stories of violence, it is important that we ask certain questions of ourselves and of the written account.
Whose interests are being served by the telling of this story? Whose voices are not being heard? Whose lives are considered worthy of grieving, and whose deaths are regarded as forgettable? What responsibility does reading this story place upon me? This lecture will aim to consider these questions and so provide some tools to assist us as we read Old Testament stories of violence.
This is a free event held on the 28th April, 1.30pm – 3.30pm.
What is the Whitley Lecture?
Each year a Baptist theologian is invited to 'tour' around the U.K. with a lecture (called the Whitley lecture) they have prepared which will encourage and challenge us in our faith and thinking. This year we are invited to join the SWBA in Exeter for this free event to hear Helen Paynter deliver the lecture.
More details here – https://swbaptists.org.uk/event/whitley-lecture-2018/