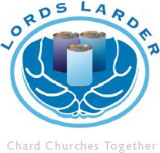 Our local foodbank, 'Lord's Larder', is a joint initiative run by Chard Churches Together.
It provides emergency food supplies for people in need.
Non-perishable foods are donated by local churches, schools and businesses.
How to donate
Please take food items to the Forefront Community Centre (address below) or leave in the Lord's Larder donation box at CBC on a Sunday (ask Welcomers for details).
Please ensure that any food donated is well within the sell-by-date. At present, due to storage limitations, Lord's Larder is unable to stock non-food items. A list of requested foods is found here.
How to refer
If you require a referral form you can download one from the Forefront website here.
Non-perishable items of food are given on a one-off basis. Further need is assessed on an individual basis.
Referral forms need to be filled in by a referring agency (i.e. a doctor, Social Services or a church) and then given to Forefront Community Centre:
42 Fore Street, Chard
Monday to Friday 10am to 12.30pm.
To process your request more efficiently, phone (01460 66080) or email the Forefront office to let them know the number of bags required. They will endeavour to supply your requests by the next day.