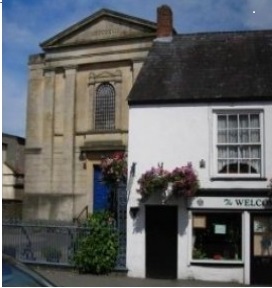 The Welcome Bap is Chard Baptist Church's coffee shop. The coffee shop has it's own frontage onto Holyrood Street, separate to the Church buildings.
The cafe has a website: www.thewelcomebap.co.uk.
A family friendly cafe in the heart of Chard, Somerset, located next to the Baptist Church in Holyrood Street. Whether you're visiting the South West of England, new to the area, or are one of our regulars, a warm welcome awaits you at The Welcome Bap.
The cafe is open:
Monday 10 a.m. to 12 noon
Tuesday 10 a.m. to 12 noon
Wednesday 10 a.m. to 12 noon
Thursday 10 a.m. to 12 noon
Friday 10 a.m. to 12 noon
Saturday 10 a.m. to 12 noon
You can enjoy Fairtrade hot drinks, homemade cakes, scones and cookies and made to order light lunches including soups, toasties etc., all in a friendly and welcoming atmosphere.
View the menu here.
Find us on Facebook here.